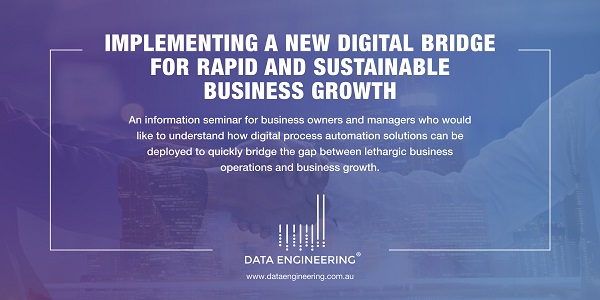 New digital Bridge Seminar: Optimising working capital through digital process automation
An information seminar for business owners and managers who would like to understand how digital process automation solutions and advanced analytics can be deployed to quickly improve working capital and drive business growth.
Part 1: Optimising Working Capital Using Digital Process Automation

Part 2: Optimising working capital using digital process automation

What is Digital Operations?

How digital operations can refocus people on agility.

Building a business case for automation
How to access the course
To access this course you will need to sign in with your login credentials. If you do not have a login credentials then you need to get one by clicking on "Don't have an account?" . After creating your login credential you will receive an email inviting you to validate your email address. After validating your email you will then be able to purchase and join the course.


Description
With unprecedented levels of uncertainty, changing regulations, changing customer preferences and increased pressure from competition, this can seem overwhelming for most business owners or managers. Whilst some businesses are facing a decline in demand for their services, there are others who are currently faced with great opportunity for rapid growth. However rather than focusing on business growth, these business owners get consumed in their day to day operations, this is especially true during crunch situations when business owners are more focused on maintaining a positive working capital than worry about defining a strategy for rapid and sustainable growth.
This content aims to bring clarity to growth oriented business owners on how they could leverage automation and advanced analytics solutions to ensure that you maintain a positive working capital especially during periods of rapid business growth.  
Growing a business sustainably to meet customer demands, whilst maintaining brand and service standards involves increasing headcount, optimising business systems and processes, so join this course to get some clarity from thought provoking presentations, case studies and custom demonstrations on how digital process automation can empower you to achieve your business growth goals.
The problem presented today for business owners is 

how fast can we learn and absorb the changes and opportunities that exist today

t

o avoid a situation where the marketplace or opportunities are far ahead of our strategic business plan